OK. So maybe it's time that I start doing the 30 days of LOTR meme. Actually, I've got two different memes about lotr, so I'll answer questions from both of them.

So: #1. Your favourite book

I don't really have a favourite book other than The Silmarillion. If I have to choose between FoTR, TTT, and RoTK, I'd chosen the last one despite the fact that the battle at Pelennor fields is not my favourite battle . But Arwen speaks here, and it's here when I have the feeling that she is like a mini-Galadriel, all wise and powerful, and the very little time she's there, it makes me want to read more about her, it makes me wish she'd be in the story more time. And the story has a happy ending but with sacrifices, and there are sad bits, most of the Elves are leaving, Elrond and Arwen say farewell to each other forever, Frodo leaves (and not many people know it's Arwen who asks Gandalf to take Frodo with them when they leave Middle-Earth),...

And also, the third book (the good editions) include the appendices and I think they're very important to understand what went on, before this story and later. I found it very useful to make a little chronology for Aragorn and Arwen :)

Ok, talked too much here. Fotr is too slow in the beginning (and duh, Tom Bombadil), Ttt was too boring (with no Arwen, what the hell, Tolkien?!!) So... yep, Return of the King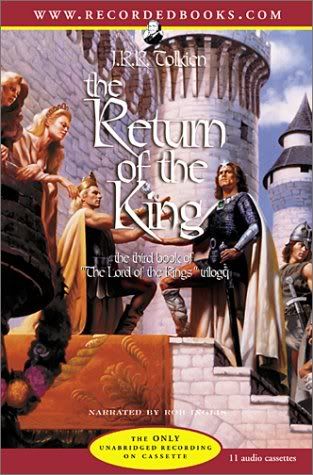 Aragorn and Arwen get married, at night. So romantic!!!



Ok. Va siendo hora de que empiece a hacer el meme de 30 días de ESDLA. De hecho, tengo 2 diferentes, así que contestaré preguntas de ambos.

#1. Tu libro favorito

Realmente no tengo otro libro favorito que no sea "El silmarillion". Si tengo que elegir entre La comunidad del anillo, Las dos torres y El retorno del Rey, elegiría el último a pesar del hecho de que la batalla de los campos de Pelennor no es mi favorita . Pero Arwen habla aquí, y es aquí cuando tengo la sensacion de que ella es como una mini-Galadriel, toda sabia y poderosa, y el poquito tiempo que está ahí, me hace querer leer más sobre ella, me hace desear que ella estuviese más tiempo ahí. Y la historia tiene un final feliz pero con sacrificios, y hay partes tristes, la mayoría de los elfos se van, Elrond y Arwen se dicen adiós para siempre, Frodo se va (y mucha gente no sabe que es Arwen quien pide a Gandalf que se lleven a Frodo con ellos cuando abandonen la Tierra Media),...

Y también, el tercer libro (las buenas ediciones) incluyen los apéndices y pienso que son muy importantes para entender lo que ocurrió, antes de esta historia y después. Lo encontré muy útil para hacer una pequeña cronología para Aragorn y Arwen :)

Ok, hablé demasiado. La comunidad del anillo es demasiado lento al principio (y duh, Tom Bombadil), Las dos torres era demasiado aburrido (win Arwen, ¿qué cojones, Tolkien?) Así que, sí, El Retorno del REy.